Recent Free Public Talks
Video Archive

2020 (January-December)
A place to meet and talk unmediated by corporations, official spokespeople, religion, political parties, or dogma.
All events are free.
At 518 Valencia Street, near 16th, in San Francisco (close to 16th Street BART)

To subscribe to our Talks as a podcast, paste the link into your favorite podcast software (iTunes, Podcast Addict, etc.)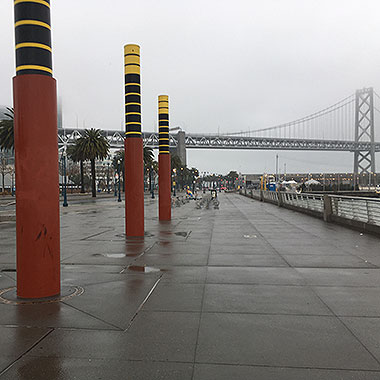 Sunday, December 13 King Tide/Sea Level Rise Mission Bay
This tour will look at the transformation of Mission Bay from a body of water and center of commerce and industry, to the current day configuration of businesses, residential neighborhood, and open space. We will look at the long effort over San Francisco's history to fill the bay as well as at current restoration projects, and the future of Mission Bay as climate change and sea level rise continue to impact shorelines and weather patterns. We will look at the City's considerations for the future and neighborhood-proposed solutions. We go through quite a bit of history of industry and related labor, global influences, and transportation. Hosted by Chris Carlsson and LisaRuth Elliott

Video here.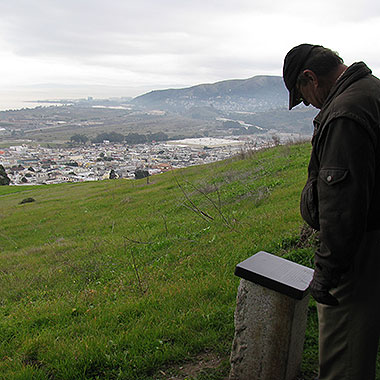 Saturday, November 14, 11 a.m. start time! McLaren Park and Philosophers' Way
Enjoy the remarkable circumnavigation of McLaren Park provided by the Philosopher's Way loop, prompting discussions of various aspects of southeastern San Francisco history. Enjoy scenic overlooks and this delightful open space.
(Due to pandemic restrictions, we have limited capacity on our tours. This tour is full. Our waiting list is now closed.)
Video here.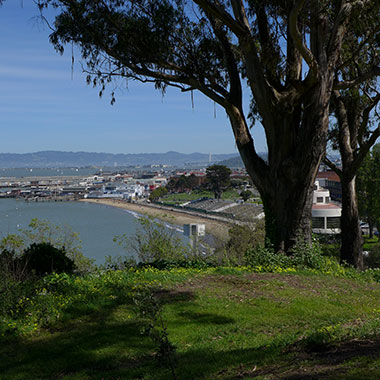 Saturday, September 26 (Pre-poned from Oct. 24!!) Black Point and Fort Mason
We traverse the grounds of the old military base and discover histories of farms, soldiers, abolitionists, and a lost lagoon. From the Fontana Towers to Aquatic Park we discuss urban development, ecology, slavery, World's Fairs, and militarism.
Video here.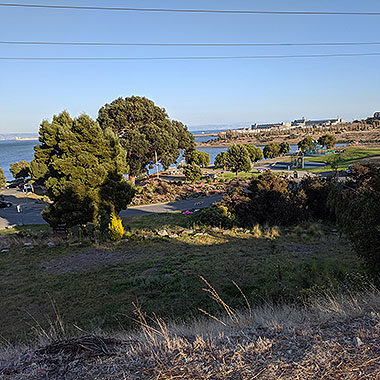 Saturday, September 19 India Basin and Heron's Head Park
Shaping San Francisco invites you on a tour of India Basin's shoreline open space, parks, and historic sites. Not only will you get a close-up tour of this much neglected part of San Francisco, but we'll be discussing San Francisco's efforts to plan for sea-level rise even while the overlooked shoreline is suddenly spruced up and made publicly available like never before. After our walk we'll chat at the historic installation at the west end of India Basin.
A new kind of outdoor gathering to replace our normal schedule of indoor public talks. These will be shorter urban walks with a guest speaker or two, ending in a place where we can sit (safely) and have an open conversation about history, public space, and the themes that come up along the way.

Video here.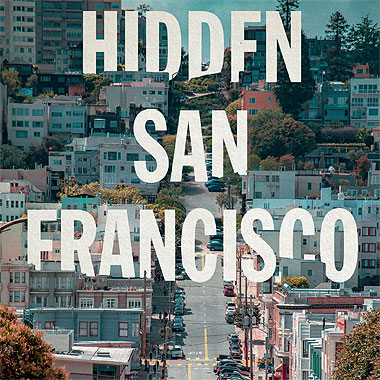 Wednesday, March 11, 7:30 pm Hidden San Francisco:
Book Release and Birthday!
Join Shaping San Francisco's Chris Carlsson on his 63rd birthday as he presents his new book, Hidden San Francisco: A Guide to Lost Landscapes, Unsung Heroes, and Radical Histories. After a quarter century of curating the digital archive at foundsf.org, and conducting bike and walking tours, this book captures the unique and serendipitous connections that course through Shaping San Francisco's ongoing work.
Video here.
Wednesday, February 26, 7:30 pm
Art & Politics: Miranda Bergman
Miranda Bergman, a Mission District resident for many decades and local icon, has been painting public murals since the 1970s when she started as a member of the Haight Ashbury muralists. Her involvement in Central America, Palestine, and women's politics has shaped her participation in epic works such as Maestrapeace, a Placa mural in Balmy Alley, and many others around the Bay Area and the world.
Video here.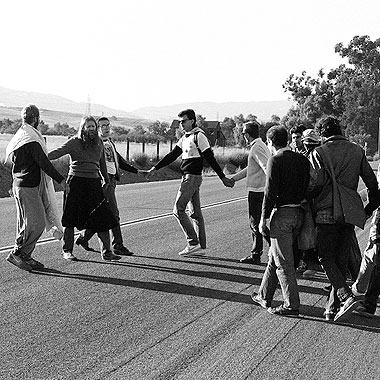 Wednesday, January 29, 7:30 pm
Money for AIDS, Not For War
The "Money for AIDS, Not for War" ritual/protest was held 35 years ago by Enola Gay, a self proclaimed faggot affinity group, on September 23, 1984, at the Lawrence Livermore National Laboratory 50 miles east of San Francisco. It was the first recorded use of direct-action civil disobedience anywhere in the world in response to the AIDS crisis. (ACT UP/New York was founded three years later.) Veterans of that moment return to discuss direct action in the depths of the Reagan counter-revolution, the connections between war spending and social crises, the long resistance from below to the HIV/AIDS epidemic, and the vibrant queer left tradition of resistance still alive in San Francisco, with Jack Davis, Robert Glück, and Richard Bell.
Video here.