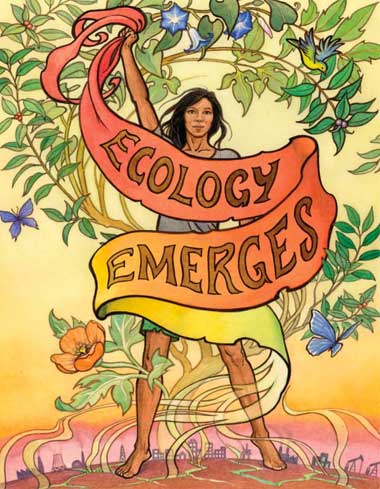 Mona Caron
Ecology Emerges

Discussions and reflections on the history of Bay Area ecological activism, based on oral histories documenting the past 50 years.
Through oral history gathering Ecology Emerges gives us new insight into a long-term evolution of human society based in our backyard of the Bay Area. We are interested in the role that individual and institutional memories play in the development, policy proposals, and interrelationships that together make up the existing networks of ecological politics. We documented the living ecological activist movement, in their own words, but also in a larger frame of urban growth and globalization.
Against the current context of living "green" and a widely promoted attention to the environment around us, new efforts to rediscover local resources and to manage them in an ecologically sound way require a deeper understanding of what once was, how it was altered, and how what's left of the original richness and biological diversity might be harmonious with a revitalized and relocalized economic life. We give close attention to the edges: where urban and rural meet, where water and land meet, where conflicting human purposes meet.
We welcome you to explore the following thematic videos, listen to podcasts of the public talks we held from March - May 2010, or hear our 28 participants respond to the questions we had for them.
Videos by Nick Kasimatis
Hot Ecological Themes
Evolution of Eco-Activism 
Bay Area as Incubator 
Nature in Cities
Economies of Nature
Ecology Emerges Discussions
Bay Area as Incubator 
March 31, 2010 at Koret Auditorium, San Francisco Main Library
With Sam Schuchat (California Coastal Conservancy), Kirsten Schwind (Bay Localize), Harold Gilliam (SF Chronicle, SF Examiner). Co-sponsored by the SF History Center.
Examining the Bay Area as a demonstration area and incubator of experiments that shaped the national and international ecological movements. What is the relationship of San Francisco to its region? The region to the state, to the continent, to the oceans, and to the planet?
Audio discussion:

Nature in Cities 
April 28, 2010  at CounterPULSE, San Francisco
With Peter Berg (Planet Drum Foundation), Miya Yoshitani (Asian Pacific Environmental Network),  Jason Mark (Earth Island Journal, Alemany Farm). Part of the Shaping San Francisco Talks series. 
Considering urbanization as a global crisis/an opportunity. Understanding the restorative, regenerative, and imaginative possibilities of a new integration of urban and rural through local agriculture, human-powered transport (e.g. walking, biking), etc.
Audio discussion:

Economies of Nature
May 17, 2010 at SPUR Public Assembly Hall, San Francisco
With Dick Walker (author The Country in the City), Rebecca Solnit (author/activist),  Antonio Roman-Alcalá (filmmaker In Search of Good Food, Permaculture Guild)
Can there be "sustainability" within a growth-based, capitalist economy? Do "ecosystem services" and "natural capitalism" lead away from our current path, or do they only reinforce it? How does the Utopian imagination affect the narrow push for Green Survivalism?
Audio discussion:

Evolution of Eco-Activism
March 18, 2010 at Humanist Hall, Oakland
With Jerry Mander (International Forum on Globalization), Karen Pickett (Bay Area Coalition for Headwaters), and Carla Pérez (Movement Generation).
Exploring the evolution of nature and ecological activism, how we thought about it 40 years ago vs. how we think about it now. Following the compelling shift from conservation to environmentalism to environmental/social justice over the last half-century.
Who Made Ecological History
Antonio Roman-Alcalá
Filmmaker, farmer, permaculturist
Helped restart San Francisco's Alemany Farm, member of the San Francisco Permaculture Guild, and a food activist/filmmaker
Peter Berg, 1937-2011
Social revolutionary thinker, writer, ecologist, environmental activist
Founder of Planet Drum, original San Francisco Digger in the mid-1960s.
Saul Bloom, 1954-2016
Founder and executive director of ARC/Ecology in San Francisco.
Formerly a director of Greenpeace, and a longtime activist around militarism, military base closures and urban ecological issues.
Alvin Duskin, 1931-2021
Businessman, San Francisco legend
Former anti-highrise organizer, anti-nuclear activist, wind power entrepreneur
Juliet Ellis
Executive director of Urban Habitat
Urban Habitat is an environmental, economic and social justice organization working on building power in low-income communities and communities of color throughout the Bay Area.
Bill Evers, 1927-2017
Retired ecology pioneer
Founder of Planning and Conservation League, Committee to Save Lake Tahoe, former director Bay Conservation & Development Commission, Board member of Greenbelt Alliance for 25 years.
Harold Gilliam, 1918-2016
Retired environmental journalist
SF Chronicle regular columnist, author of "The Natural World of San Francisco" and many other books
interview (audio only)
Judy Goldhaft
Ecologist, dancer, food and water activist
Co-founder of Planet Drum, original San Francisco Digger.
Oscar Grande
Community Organizer, People Organized to Demand Environmental and Economic Rights (PODER)
His work over the years has focused on leading residents and workers to resist against gentrification and the toxic poisoning of working-class immigrant neighborhoods.
Ruth Gravanis
Ecologist, habitat restorationist
Ruth Gravanis has been long involevd in water and waste politics, especially at Mission Bay and Treasure Island, as well as being involved with San Francisco Tomorrow, the Sierra Club and many other local organizations.
Nikki Henderson
In 2009, Nikki co-founded Live Real, a national collaborative of food movement organizations committed to strengthening and expanding the youth food movement in the United States, and in 2010 she became director of Oakland's People's Grocery, an organization committed to bringing healthy food into urban food deserts.
John Knox
John got involved with Friends of the Earth in the 1970s and with David Brower helped to start the Earth Island Institute in the early 1980s.
Jerry Mander 1937-2023
Jerry is the author of many books, including Four Arguments for the Elimination of Television (1977), In the Absence of the Sacred (1991)
Jason Mark
Farmer and coordinator at Alemany Farm, journalist and editor at Earth Island Journal.
Julia May
Julia has spent years combating toxic waste and water pollution issues from a hard science point of view.
Sylvia McLaughlin, 1916-2016
Along with Esther Gulick and Catherine Kerr, Sylvia founded the seminal effort to Save the Bay in the early 1960s, which led to the Bay Conservation & Development Commission, a state agency that has done much to preserve and clean up the San Francisco Bay since its founding in 1965.
Monica Moore
Participated in an international network of activist groups to combat the global chemical industry.
Larry Orman
Former Executive Director of People For Open Space, then the Greenbelt Alliance, now runs GreenInfo Network
Made saving agricultural lands a priority for open space activists in the Bay Area, committed to regional perspective and regional solutions.
Karen Pickett
Karen Pickett helped start the earliest recycling efforts in 1970s Berkeley, and later was a key activist in 1980s forest preservation in the northern Redwoods.
Carole Schemmerling
Carole led the campaign to daylight sections of Strawberry Creek through west Berkeley and continues to support efforts to change our relationship to underground waterways throughout the Bay Area.
Sam Schuchat
Sam has led "undevelopment" efforts at the state and regional level to work with private and public efforts at preservation of open space and public lands, shorelines, and water ways.
Kristen Schwind
At Bay Localize Kirsten takes the lead on community resilience workshops and updating the Toolkit, consulting on local energy policy, and managing organizational operations and development.
Lenny Siegel
Lenny participates in the oversight of environmental activities at federal facilities, private "Superfund" sites, and Brownfields, conducting sites visits, convenes workshops and forums, publishes articles, and maintains the web-based "technology tree."
Doris Sloan
UC Berkeley geology professor emeritus
Doris founded the UC Berkeley Environmental Studies department in the 1970s after participating in the fight against the Bodega Bay Nuclear Plant that was stopped by citizen action in the early 1960s.
Susan Swift
Former staffer Abalone Alliance
Susan was the staffer in the statewide office of the anti-nuclear Abalone Alliance in the early 1980s.
Tom Turner
Former editor Not Man Apart, Friends of the Earth, Earthjustice staffer
Tom was one of the co-founders of Friends of the Earth and worked closely with David Brower on their journal, and has been involved in many ecological campaigns over the years.
Linda Weiners
Board member, Sierra Club northern California chapter
The Sierra Club's northern California chapter has long been more progressive than the national organization, and Linda has been a board member for a number of years.
Miya Yoshitani
Miya works with low-income communities of Asian-Americans and Asian immigrants in Oakland's Chinatown and, as well as the Laotian community in Richmond near the petrochemical and oil refineries.

This project supported by the California Council for the Humanities, California Story Fund and The Seed Fund. Thanks to our advisors Sean Burns, Rebecca Solnit, Richard Walker, and Jon Christensen.