Recent Free Public Talks
Video Archive

Spring 2020 (January-May)
A place to meet and talk unmediated by corporations, official spokespeople, religion, political parties, or dogma.
All events are free.
At 518 Valencia Street, near 16th, in San Francisco (close to 16th Street BART)

To subscribe to our Talks as a podcast, paste the link into your favorite podcast software (iTunes, Podcast Addict, etc.)
Archive of past talks (2006-2019)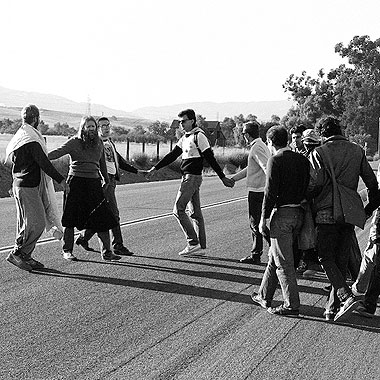 Wednesday, January 29, 7:30 pm
Money for AIDS, Not For War
The "Money for AIDS, Not for War" ritual/protest was held 35 years ago by Enola Gay, a self proclaimed faggot affinity group, on September 23, 1984, at the Lawrence Livermore National Laboratory 50 miles east of San Francisco. It was the first recorded use of direct-action civil disobedience anywhere in the world in response to the AIDS crisis. (ACT UP/New York was founded three years later.) Veterans of that moment return to discuss direct action in the depths of the Reagan counter-revolution, the connections between war spending and social crises, the long resistance from below to the HIV/AIDS epidemic, and the vibrant queer left tradition of resistance still alive in San Francisco, with Jack Davis, Robert Glück, and Richard Bell.
Video here.