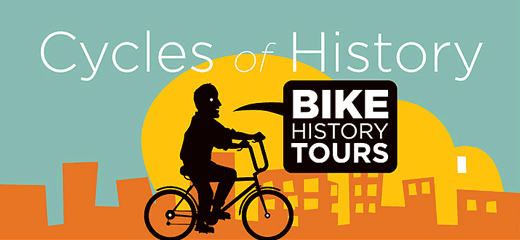 "Best cruise through the past!" — SF Bay Guardian "Best of the Bay" 2007 & 2014!
Shaping San Francisco Walking Tours
Every 2nd Saturdays February-May 2015.
$10-20 sliding scale donation requested to benefit Shaping San Francisco
---
Valentine's Day Special!
Beer and Trains and Dunes: Exploring SOMA
The Crooks Tour by Paul Drexler
Ten Years That Shook the City
History of Market Street
Murals, Hills, and Italians
Bicycle Tours

Social, historical, and critical tours through San Francisco.
Shaping San Francisco co-director Chris Carlsson conducts historical tours of San Francisco by bicycle. Bring a snack and water — we don't stop for food! Please email us to RSVP, less than five people cancels! (And include your phone number so we can call you if rain washes out the tour!)
We request a $15-50 sliding scale donation for our bike tours (but are flexible and you can pay less--or more!--as you see fit), benefiting Shaping San Francisco
Spring-Summer 2015 Tours — Tours start at 12 noon at 518 Valencia (at 16th Street) in San Francisco unless otherwise indicated.
More info: 415.608.9035
Need to Rent a Bike? Go to Pier 40 to the Bike Hut!
---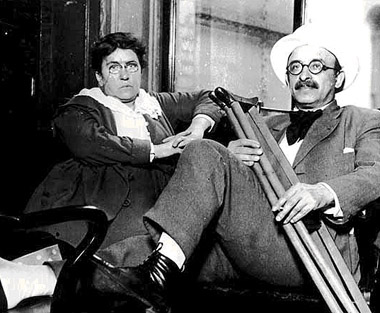 Dissent
Sunday, February 22, 2015
Covering everything from literary dissenters to urban riots and protests, this tour examines sites of conflict and unrest, the social movements and upheavals, that have shaped San Francisco since its origins. It's a social, historical and critical tour through the city's contrarian past and present. Tour ends at Dolores Park.
RSVP shaping@foundsf.org
Photo: Emma Goldman and Alexander Berkman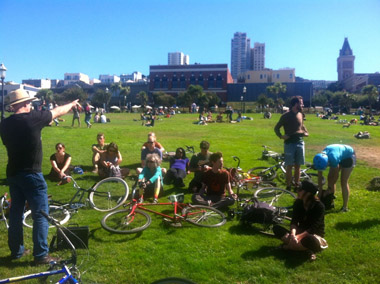 Ecological History (north)
Sunday, March 22
This trip through San Francisco's lost sand dunes, ponds, creeks and coastline will focus on the city from downtown north, covering the heart of the city, the waterfront and Yerba Buena cove, Telegraph Hill, Black Point, and Crissy Field in the Presidio... It's a social, historical and critical tour through the city's ecological past and present. Tour ends at Aquatic Park or Fort Mason great meadow.
RSVP
shaping@foundsf.org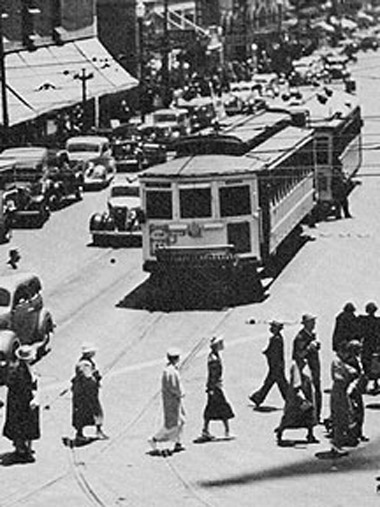 Transit History
Saturday, April 18
Discover lost freeways, ghosts of train routes, and a vivid account of how San Franciscans moved around this peninsula through time. Hear about the violent strikes that shaped public transit, the graft and corruption that conquered the Outside Lands. It's a social, historical and critical tour through the city's transportation past and present. Tour ends near Embarcadero and Market.
RSVP
shaping@foundsf.org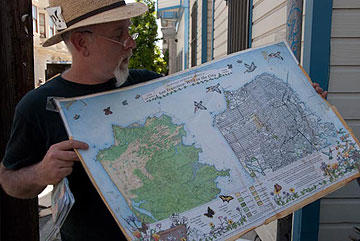 Ecological History (south)
Saturday, May 30
This trip through San Francisco's lost sand dunes, ponds, creeks and coastline will focus on the city from the center southward, covering the Mission before heading to Heron's Head Park and then making our way northward along the bayshore. Heron's Head Park, The Farm, water and sewage, geology, community gardens, San Bruno Mountain, and more! It's a social, historical and critical tour through the city's ecological past and present. Tour ends at Warm Water Cove (24th and bayshore).
RSVP
shaping@foundsf.org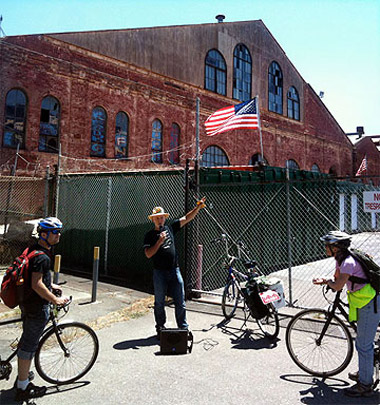 Labor history
Sunday, July 5, 2015
From the pre-urban history of Indian Slavery to the earliest 8-hour day movement in the U.S., the ebb and flow of class war is traced. SF's radical working class organizations are shaped in part by racist complicity in genocide and slavery, but from the 1870s to the 1940s there are dozens of epic battles between owners and workers, culminating in the 1934 General Strike and its aftermath. This is an entirely different look, during a four hour bike tour, at San Francisco labor history. Tour ends at Spear and Market.
RSVP
shaping@foundsf.org
Panama-Pacific International Exposition—Then and Now
Sunday, July 19, 2015 * Tour starts at Civic Auditorium (Grove at Larkin Street)
This mild bicycle journey covers key locations of the Panama Pacific International Exposition from Civic Center's Civic Auditorium, built as the Exposition Auditorium, to the Palace of Fine Arts. Ride with us and travel through the past 100 years of the influence of this and other world's fairs.
Tour ends at Palace of Fine Arts.
RSVP shaping@foundsf.org
Photo: Building the Exposition Auditorium in 1914, courtesy San Francisco Public Library, San Francisco History Center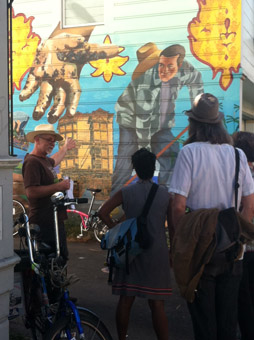 Food politics
Autumn, 2015
Explore the many ethnic threads that, knit together, have produced our amazing local cuisine. From the old Italian food industries to Chinese shrimping villages, to the prodigious Bay Area fresh fruit and vegetable trade, get ready for an illuminating and tasty tour that will change how you think about what you eat. Tour ends at Alemany Farm or 25th and Mission.
Special food stops all the way!
RSVP
shaping@foundsf.org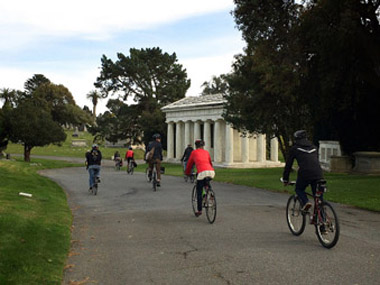 Halloween Tour of Colma Cemeteries on Day of the Dead!
Sunday, November 1, 2015, noon

We meet at the COLMA BART STATION at 12 noon, and then take a spirited tour of several massive cemeteries where famous San Franciscans are buried. We'll visit Woodlawn, Home of Peace and Hills of Eternity, Cypress Lawn, and Holy Cross. We return to Colma BART together at end of tour.
RSVP
shaping@foundsf.org
Photo by Marcin Wichary
Awards and Testimonials
"BEST CRUISE THROUGH THE PAST"
"While in principle we'd be the first to advocate sitting at home with a good history book on weekends, we'd also be the first to admit that such studious discipline can be hard to maintain on those rare summer afternoons when the sun is shining. Thanks to local activist Chris Carlsson's Bicycle History Tours, which depart regularly from CounterPULSE in SoMa, you can get your fun in the sun while simultaneously learning loads about San Francisco's various social, political, and ecological histories. As director and curator of the ambitiously far-reaching Shaping San Francisco history preservation project, Carlsson has amassed a wealth of local archival information regarding such absorbing topics as the subterranean waterways flowing beneath our streets and the Bay Area's long-standing penchant for protest. Usually the bike ride turns out to be the least strenuous activity of the day, but the great gray muscle that is your brain will definitely get a workout."
— San Francisco Bay Guardian Best of the Bay 2007
"A REAL CHARACTER AND A HILARIOUS GUY"
Last weekend I had the fortune to spend four hours in the company of Chris Carlsson, maybe the most knowledgeable man around when it comes to all things San Francisco. Seriously. He offers six more tours this year, ranging in subject from food history (the one I opted for) to dissent to ecological history. Best of all, the tours are in no way obnoxious. Carlsson is a real character and a hilarious guy. You can tell he cares about his city as much as he cares about the people who live in it. And his tours are punctuated with tasty snacks. I was joined by about fifteen other folks (including two friends on an obscenely large tandem bicycle with whom I got lost afterwards in a pretty bad neighborhood…needless to say, heads were turning). Carlsson steered us around the sites of factories I didn't even know had existed in San Francisco – mayonnaise, Twinkie, coffee – and way beyond.
—Lucy Schiller, Broke-Ass Stuart Destitute Dispatcher, Oct. 19, 2011
"A GREAT BIKE RIDE / SAN FRANCISCO"
Labor History Tour
"Explore the colorful history of the labor movement here in San Francisco with CounterPULSE and Shaping San Francisco director Chris Carlsson on this four-hour bicycle tour. You will visit Pier 38 where the 1877 riots almost burned the Pacific Mail docks (and led to the Workingmen's Party) and the foot of Market Street where many labor marches began. Get off at the Civic Center BART/Muni Station — remember you can bring your bike on BART —and meet up with new friends at Mission and 9th streets. Do not forget your high-energy snack and some H2O. $15-50 sliding scale." 
—San Francisco Examiner
"TREMENDOUS NARRATIVE SKILL"
"I recently rode on the Shaping San Francisco 'Labor History' bike tour led by Chris Carlsson, a cycling encyclopedia of the many layers of SF history. With tremendous narrative skill, Chris point out visible urban features and architecture I'd passed by countless times without a notice, to bring the lived experience of the past into perspective. Upcoming tours include Ecological History, Dissent, and Food Politics. I hope to go on more these and suggest both visitors and long-time residents check them out as well. There's pretty much no better way of spending a beautiful day and getting a deeper look at the city we live in."
—Ben Furstenberg, April 30, 2012
"UNRIVALED" 
"The bike tours are unrivaled for their information to minute ratio. Chris Carlsson = top 5 people in SF."
— Yelp Review