Wed. March 12, 2014 7:30 pm
Saltworks and Shorelines: a Visual and Social History of the San Francisco Bay
Cris Benton has used kite photography to document the surprisingly beautiful "saltscapes" of the South Bay, while Matthew Booker's Down By the Bay is one of the best recent histories of the long, complicated, and contradictory relationship of urbanizing humans and the amazing inland estuary we enjoy as the Bay.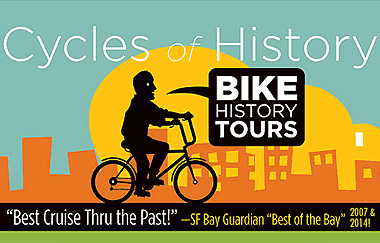 Next walking tour:
Saturday, April 5, 2014: Ten Years That Shook the City, 12 noon - 1:30 PM Meet in front of La Boheme cafe, 24th Street across from BART plaza, 12 noon
Enjoy a half dozen stops of the "Ten Years..." audio tour, hosted by Chris Carlsson and LisaRuth Elliott. Tour ends at 20th and Lexington in the Mission.
$10-20 donation requested, no one turned away.
Please email us to RSVP.
Cycles of History

Historical tours of San Francisco by bicycle
Our fabulous bicycle tours are led by Critical Mass co-founder Chris Carlsson.
Join our list or like us on Facebook to be notified about upcoming tours!
NEXT TOUR » Saturday, March 15, 2013
Ecological History South
This trip through San Francisco's lost sand dunes, ponds, creeks and coastline will focus on the city from the center southward, covering the Mission before heading to Heron's Head Park and then making our way northward along the bayshore. Heron's Head Park, The Farm, water and sewage, geology, community gardens, San Bruno Mountain, and more! It's a social, historical and critical tour through the city's ecological past and present. Tour ends at Warm Water Cove (24th and bayshore).
Please email us to RSVP, less than five people cancels!
Explore Shaping San Francisco: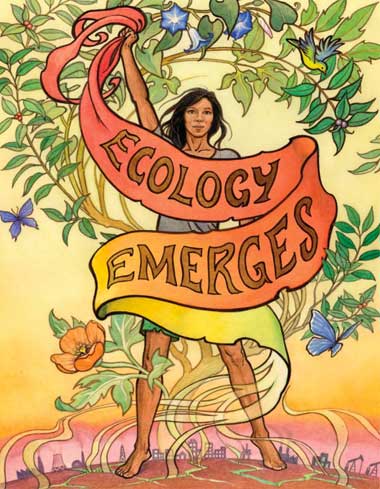 Discussions and reflections on the history of Bay Area ecological activism, based on oral histories documenting the past 50 years.
Ecology Emerges is an oral history gathering project to explore the past 50 years of ecological activism in the Bay Area and the role that individual and institutional memories play in the development, policy proposals, and interrelationships that together make up the existing networks of ecological politics.  We document the living ecological activist movement, in their own words, but also in a larger context of urban growth and globalization.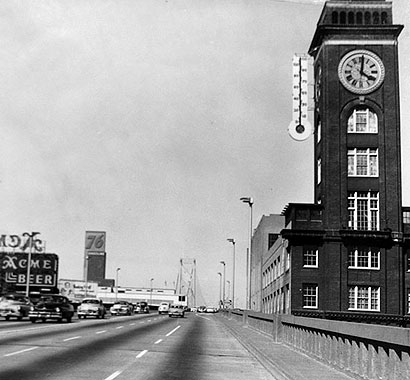 Comprised of over 1,400 pages, and 2,500 historical photos, the wiki-based archive FoundSF.org is the product of hundreds of contributors, regular people who were compelled by the chance to investigate some piece of this City's past.