Wed. April 16, 2014 7:30 pm
Upton Sinclair/End Poverty in California
Lauren Coodley's new biography of Sinclair dubs him a "California Socialist, Celebrity Intellectual". She sheds light on his remarkable life as the writer who exposed the meatpacking industry in The Jungle, the depradations of the oil industry, the wrongful prosecutions of Sacco and Vanzetti as well as the Wobblies, but Coodley reveals a previously under-appreciated side of Sinclair: his feminism. Jay Martin joins the discussion to focus on Sinclair's momentous 1934 California gubernatorial campaign to "End Poverty in California (EPIC)."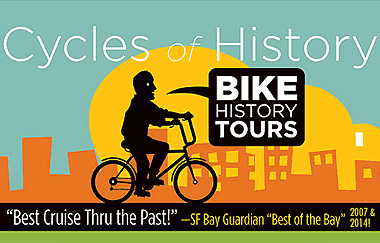 Next walking tour:
Saturday, May 3, 2014: Beer and Trains and Dunes
Exploring SOMA's forgotten history
Meet in front of SOMARTS, 938 Brannan 12 noon
Take a looping walk through the old industrial zones of the Northeast Mission and southwest SOMA, finding ghosts of train routes, old breweries, and underground waterways. Find San Francisco's first sugar factory next to a venerable leather bar! And much more! Tour ends at Mission Creek, 7th and Channel.
$10-20 donation requested, no one turned away.
Please email us to RSVP.
Cycles of History

Historical tours of San Francisco by bicycle
Our fabulous bicycle tours are led by Critical Mass co-founder Chris Carlsson.
Join our list or like us on Facebook to be notified about upcoming tours!
NEXT TOUR » Sunday, April 13, 2013
Transit History
Discover lost freeways, ghosts of train routes, and a vivid account of how San Franciscans moved around this peninsula through time. Hear about the violent strikes that shaped public transit, the graft and corruption that conquered the Outside Lands. It's a social, historical and critical tour through the city's transportation past and present. Tour ends near Embarcadero and Market.
Please email us to RSVP, less than five people cancels!
Explore Shaping San Francisco: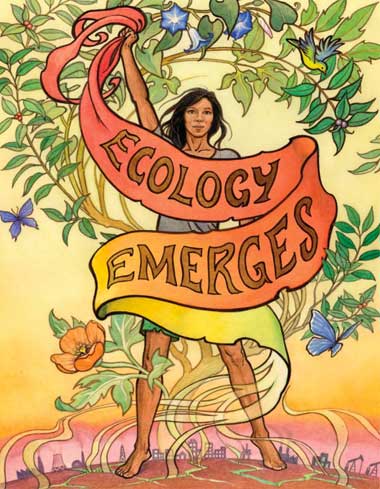 Discussions and reflections on the history of Bay Area ecological activism, based on oral histories documenting the past 50 years.
Ecology Emerges is an oral history gathering project to explore the past 50 years of ecological activism in the Bay Area and the role that individual and institutional memories play in the development, policy proposals, and interrelationships that together make up the existing networks of ecological politics.  We document the living ecological activist movement, in their own words, but also in a larger context of urban growth and globalization.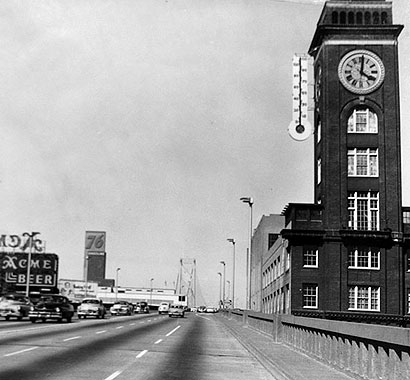 Comprised of over 1,400 pages, and 2,500 historical photos, the wiki-based archive FoundSF.org is the product of hundreds of contributors, regular people who were compelled by the chance to investigate some piece of this City's past.