December 3, 2014
Tunneling San Francisco Then and Now: Where's the Public Interest?
A discussion of the west side tunnels and MUNI expansion in the 1910s, simultaneous to the building of the Hetch Hetchy water and power system by Elizabeth Creely and Catherine Powell, with Tim Redmond to compare today's infrastructure build-out (Central Subway, sewers, and rebuilding Hetch Hetchy aqueduct).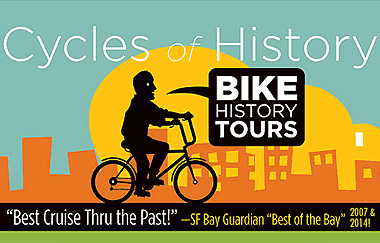 Next walking tour (2nd Saturdays August-December):
Saturday December 13, 2014:
Poets & Writers: A Literary (and Geographic) Exploration
Meet at 518 Valencia (near 16th), 12 noon
Cycles of History

Historical tours of San Francisco by bicycle
Our fabulous bicycle tours are led by Critical Mass co-founder Chris Carlsson.
Join our list or like us on Facebook to be notified about upcoming tours!
NEXT TOUR » Saturday, Nov. 22, 2014

Labor History
From the pre-urban history of Indian Slavery to the earliest 8-hour day movement in the U.S., the ebb and flow of class war is traced. SF's radical working class organizations are shaped in part by racist complicity in genocide and slavery, but from the 1870s to the 1940s there are dozens of epic battles between owners and workers, culminating in the 1934 General Strike and its aftermath. This is an entirely different look, during a four hour bike tour, at San Francisco labor history. Tour ends at Spear and Market.
RSVP
shaping@foundsf.org
Please email us to RSVP, less than five people cancels!
Explore Shaping San Francisco: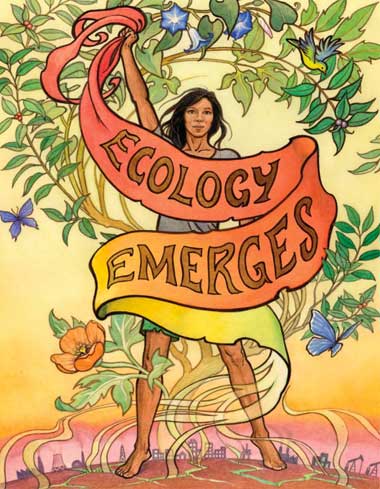 Discussions and reflections on the history of Bay Area ecological activism, based on oral histories documenting the past 50 years.
Ecology Emerges is an oral history gathering project to explore the past 50 years of ecological activism in the Bay Area and the role that individual and institutional memories play in the development, policy proposals, and interrelationships that together make up the existing networks of ecological politics.  We document the living ecological activist movement, in their own words, but also in a larger context of urban growth and globalization.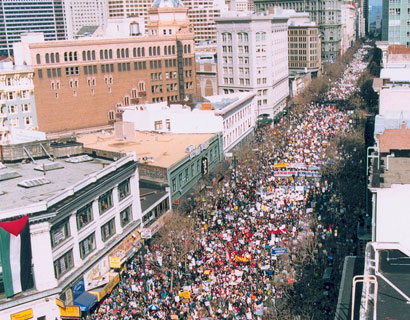 Comprised of over 1,400 pages, and 2,500 historical photos, the wiki-based archive FoundSF.org is the product of hundreds of contributors, regular people who were compelled by the chance to investigate some piece of this City's past.