Wed. April 30, 2014 7:30 pm
Art & Politics: Yolanda Lopez
Yolanda Lopez covers the dynamic history of Los Siete and Mission District politics of the 1970s, but goes much further, both before (in the 1960s) and after (to the present), into her own work as a Chicana artist. With Judy Drummond and Donna Amador.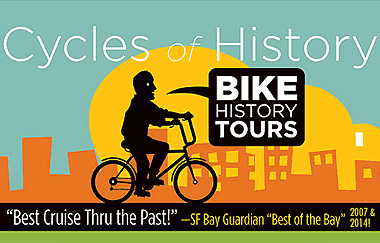 Next walking tour:
Saturday, May 3, 2014: Beer and Trains and Dunes
Exploring SOMA's forgotten history
Meet in front of SOMARTS, 938 Brannan 12 noon
Take a looping walk through the old industrial zones of the Northeast Mission and southwest SOMA, finding ghosts of train routes, old breweries, and underground waterways. Find San Francisco's first sugar factory next to a venerable leather bar! And much more! Tour ends at Mission Creek, 7th and Channel.
$10-20 donation requested, no one turned away.
Please email us to RSVP.
Cycles of History

Historical tours of San Francisco by bicycle
Our fabulous bicycle tours are led by Critical Mass co-founder Chris Carlsson.
Join our list or like us on Facebook to be notified about upcoming tours!
NEXT TOUR » Sunday, May 18, 2014
Ecological History (north)
This trip through San Francisco's lost sand dunes, ponds, creeks and coastline will focus on the city from downtown north, covering the heart of the city, the waterfront and Yerba Buena cove, Telegraph Hill, Black Point, and Crissy Field in the Presidio... It's a social, historical and critical tour through the city's ecological past and present. Tour ends at Aquatic Park or Fort Mason great meadow.
Please email us to RSVP, less than five people cancels!
Explore Shaping San Francisco: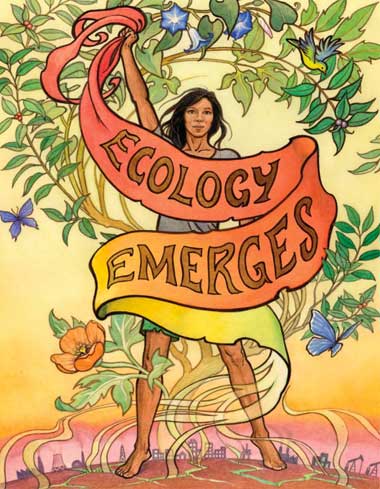 Discussions and reflections on the history of Bay Area ecological activism, based on oral histories documenting the past 50 years.
Ecology Emerges is an oral history gathering project to explore the past 50 years of ecological activism in the Bay Area and the role that individual and institutional memories play in the development, policy proposals, and interrelationships that together make up the existing networks of ecological politics.  We document the living ecological activist movement, in their own words, but also in a larger context of urban growth and globalization.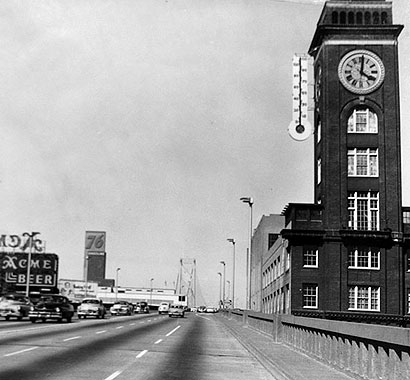 Comprised of over 1,400 pages, and 2,500 historical photos, the wiki-based archive FoundSF.org is the product of hundreds of contributors, regular people who were compelled by the chance to investigate some piece of this City's past.