April 1 • 7:30 pm
Vietnam War, Dissent, and the U.S. Military
A half-century after the Vietnam War officially began, we'll look back at military mutinies, the rise of the volunteer army in response to the "Vietnam Syndrome," and situate the Vietnam War in the long history of U.S. military aggression, even pre-dating the founding of the United States. Roxanne Dunbar-Ortiz, Paul Cox, Deni Leonard, Michael Blecker
Walking Tours
Social, historical, and critical tours through San Francisco.
Next walking tour:

Saturday April 11, 12 noon
History of Market Street

Meet at south tower in Ferry Plaza (between north- and south-bound Embarcadero roadways), 12 noon. Stroll through the center of San Francisco along its main thoroughfare, discovering the social movements and events that shaped the City's history. The "roar of the four" and the underground railroad, the 8-hour day movement to the rise of Labor parties and the 1916 bombing, newspaper wars, urban design, and more! Tour ends at UN Plaza, 7th and Market. RSVP
Bicycle Tours

"Cycles of History," our social, historical, and critical tours through San Francisco by bicycle.
Our fabulous bicycle tours are led by Critical Mass co-founder Chris Carlsson.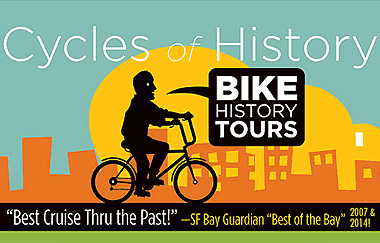 Join our list or like us on Facebook to be notified about upcoming tours!
NEXT BIKE TOUR » Saturday, April 18, 2015

Transit History
Discover lost freeways, ghosts of train routes, and a vivid account of how San Franciscans moved around this peninsula through time. Hear about the violent strikes that shaped public transit, the graft and corruption that conquered the Outside Lands. It's a social, historical and critical tour through the city's transportation past and present. Tour ends near Embarcadero and Market.
RSVP
shaping@foundsf.org
Please email us to RSVP, less than five people cancels!
Explore Shaping San Francisco: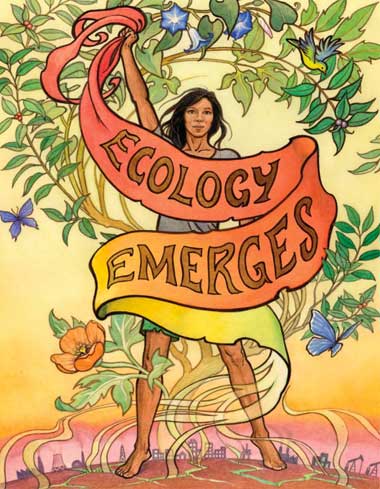 Discussions and reflections on the history of Bay Area ecological activism, based on oral histories documenting the past 50 years.
Ecology Emerges is an oral history gathering project to explore the past 50 years of ecological activism in the Bay Area and the role that individual and institutional memories play in the development, policy proposals, and interrelationships that together make up the existing networks of ecological politics.  We document the living ecological activist movement, in their own words, but also in a larger context of urban growth and globalization.
Oral Histories
Shaping San Francisco, as part of our ongoing work, sits down with people who have stories to tell and conducts oral history interviews.
Check them out here.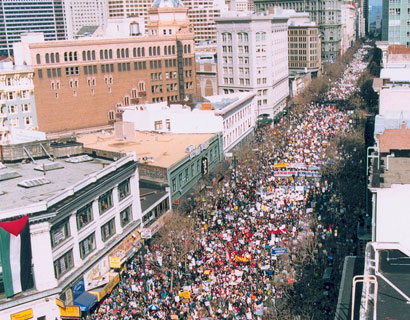 Comprised of over 1,400 pages, and 2,500 historical photos, the wiki-based archive FoundSF.org is the product of hundreds of contributors, regular people who were compelled by the chance to investigate some piece of this City's past.