Thurs. Dec. 12, 8 pm
An Evening of Ohlone Short Films
with the Ohlone Profiles Project (OPP) and Injunuity
The Ohlone Return: Inclusion in SF and Yosemite Slough (2010); 5 Shorts Projected onto Coit Tower (2011); Shorts of and about Ohlone in SF (2013); The OPP has invited other contributors: Hearst Ohlone (2013) Dir. Kathryn Carlson; Injunuity, an animation: Wampum (2013) with Anthony Sul.
This collection of short films document and reflect on the return of Ohlone people to their ancestral lands on the peninsula where San Francisco now sits. We hear the Ohlone's own voices—in a sunrise healing ceremony at Yosemite Slough and in asking San Francisco city supervisors for recognition at City Hall—as well as those evoked by the land and history. We will revisit an illuminating event in 2009: the projection of art and videos about the Ohlone and the Native American Occupation of Alcatraz from 1969-1971, showing some of the films created for that purpose. The story of the Ohlone will be brought right up to the present with a series of short films documenting the latest visits of the Costanoan Rumsen Carmel Ohlone as part of their 4-cycle effort of inclusion, and truth and reconciliation.
We will also showcase a work using Anthony Sul's critique of money, prosperity, and power animated by the Injunuity team.

The Incite/Insight Film Series is a project of Shaping San Francisco, The New Nothing Cinema, and The Anthropology And Social Change Department at the California Institute of Integral Studies. Screenings are at New Nothing Cinema, 16 Sherman Street (Between 6th and 7th, and Folsom and Harrison streets). Nearest BART is Civic Center. Free, please bring drinks and snacks to share.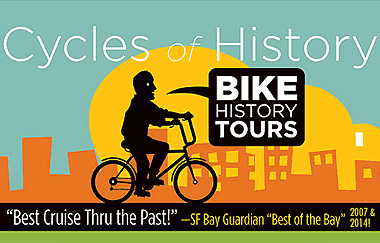 Next walking tour:
Saturday, April 5, 2014: Ten Years That Shook the City, 12 noon - 1:30 PM Meet in front of La Boheme cafe, 24th Street across from BART plaza, 12 noon
Enjoy a half dozen stops of the "Ten Years..." audio tour, hosted by Chris Carlsson and LisaRuth Elliott. Tour ends at 20th and Lexington in the Mission.
$10-20 donation requested, no one turned away.
Please email us to RSVP.
Cycles of History

Historical tours of San Francisco by bicycle
Our fabulous bicycle tours are led by Critical Mass co-founder Chris Carlsson.
Join our list or like us on Facebook to be notified about upcoming tours!
NEXT TOUR » Sunday, December 8, 2013
Labor History
From the pre-urban history of Indian Slavery to the earliest 8-hour day movement in the U.S., the ebb and flow of class war is traced. SF's radical working class organizations are shaped in part by racist complicity in genocide and slavery, but from the 1870s to the 1940s there are dozens of epic battles between owners and workers, culminating in the 1934 General Strike and its aftermath. This is an entirely different look, during a four hour bike tour, at San Francisco labor history. Tour ends at Spear and Market.
Please email us to RSVP, less than five people cancels!
Explore Shaping San Francisco: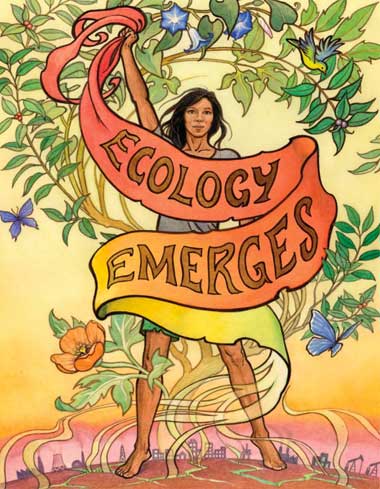 Discussions and reflections on the history of Bay Area ecological activism, based on oral histories documenting the past 50 years.
Ecology Emerges is an oral history gathering project to explore the past 50 years of ecological activism in the Bay Area and the role that individual and institutional memories play in the development, policy proposals, and interrelationships that together make up the existing networks of ecological politics.  We document the living ecological activist movement, in their own words, but also in a larger context of urban growth and globalization.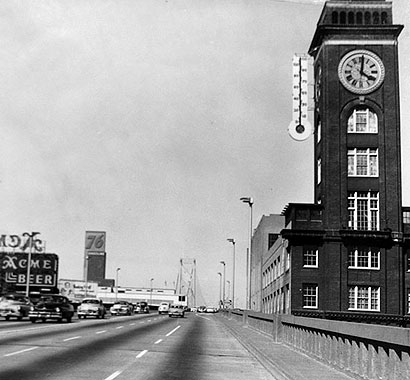 Comprised of over 1,400 pages, and 2,500 historical photos, the wiki-based archive FoundSF.org is the product of hundreds of contributors, regular people who were compelled by the chance to investigate some piece of this City's past.