Recent Free Public Talks
Video Archive

Spring 2019 (January-May)
A place to meet and talk unmediated by corporations, official spokespeople, religion, political parties, or dogma.
All events are free.
At 518 Valencia Street, near 16th, in San Francisco (close to 16th Street BART)

To subscribe to our Talks as a podcast, paste the link into your favorite podcast software (iTunes, Podcast Addict, etc.)
Archive of past talks (2006-2018)
February 13
Art & Politics:
Seth Eisen/OUT of Site
Last year we embarked on a grand collaborative journey through the under-recognized LGBTQ+ history of North Beach with Seth Eisen's OUT of Site performative walking tours. Seth returns with a look at his new SOMA tours coming in June and September, bringing forgotten queer histories and sites to life and exploring the intersections of labor history, the leather scene, bars, nightlife, and the immigrant experience.  
This is part of a series of solo artists giving a behind-the-scenes and indepth look at what inspires them in the interrelationship between art and politics.
Photo by Chris Carlsson of March 2018 Out of SITE performance
Video here.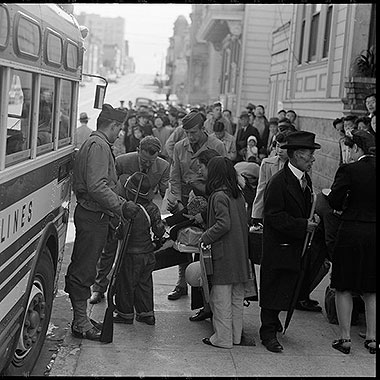 February 6
Internment and its Aftermath
Chuck Wollenberg presents his new book Rebel Lawyer about Wayne Collins and his defense of Japanese-American rights during and after WWII. Novelist and essayist Karen Tei Yamashita shares her introduction to John Okada's No-No Boy, the only 1950s novel to reflect on the post-Internment experience among Japanese-American families.
Photo by Dorothea Lange
Video here.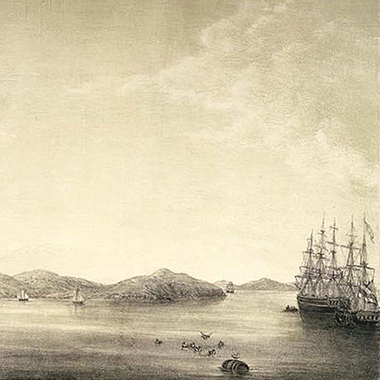 January 23
Before San Francisco:
Spanish and Mexican Peninsula
From the original encounters between local indigenous peoples and the first Spanish arrivals, to the spread of the disruptive Mission cattle-based economy, Mexican independence, and eventual abolition of Indian slavery, the peninsula that became San Francisco had a fascinating and overlooked pre-urban history. Author Adriana Camarena covers the period when Mexico was fragmenting and local Californios existed in a pastoral but brutal local world, depending on coerced Indian labor and a vast cattle plantation economy.
Image: San Francisco 1839, via Facebook
Video here.