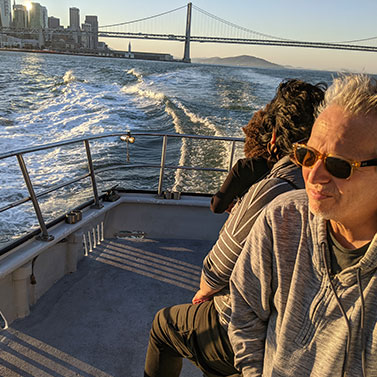 "City Front" and "Northern Shore"
Bay Cruises—Autumn 2023 schedule
"City Front" and "Northern Shore" Bay Cruises, for $60 per person. Tours depart from San Francisco at the time below (check the website for earlier pickups and departure from Emeryville). The departure dock will be disclosed to you when you reserve your ticket. The 2023 season features two possible routes:
The "City Front" tour covers San Francisco's eastern shoreline from Telegraph Hill to south of Candlestick Point. We provide close looks at Candlestick Point State Recreation Area, Hunters Point Naval Shipyard, India Basin and Heron's Head Park, Islais Creek and Pier 80, Pier 70, and Mission Bay, the old City Front along the Embarcadero, the Bay Bridge, Ferry Building area from Pier 1 through Piers 7, 15, and 23.
The Northern Shore of the City revisits the early history of Yerba Buena Cove and Telegraph Hill, too, but then we wrap around the city to explore Fisherman's Wharf, Aquatic Park, Fort Mason/Black Point, the former Panama-Pacific International Exposition grounds in the Marina and the Presidio, and travel under the Golden Gate Bridge before cruising back over the site of a long-lost island, and a close-up view of Alcatraz.
San Francisco's shoreline is packed with lost and forgotten histories, many of which surprisingly still shape our lives today. Carlsson is a skilled storyteller who will make our gorgeous cruise as entertaining and informative as it is beautiful!
And it's BYOB and snacks!
(Departures from Emeryville one hour prior to San Francisco's start)
Sunday, September 24, 4-6:30p "City Front"
Sunday, October 22, 4-6:30p "Northern Shore"
Saturday, November 4, 3-5:30p "City Front"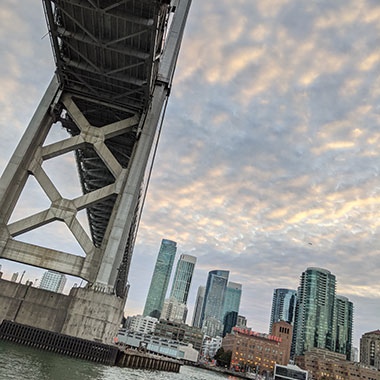 Great shoreline cruise with super knowledgeable guide!
Shaping SF history bay cruise gives a fresh angle on SF—yesterday, today, and tomorrow. Super knowledgeable narration as we rode along the "shoreline" (and learned what that even means). Great boat w lots of space inside and out. You will be surprised to see what's right there — tho you never saw it before. Five stars! —Reviewed by frankhank, Mar 5, 2020
Had the BEST time on Shaping San Francisco's boat tour hosted by my dear old friend Chris Carlsson. The boat, the riding around the bay in the breezy watery wonderfulness, the fascinating history of the SF waterfront expertly and entertainingly narrated. Safe, distance, and outside. The. Best. Time. Highly recommended! —Reviewed by Jocelyn B., June 20, 2020
Mind blown. I am a person who generally likens guided tours to a form of crude psychological torture. But this was very much the opposite experience. I will never see SF the same way again.—Reviewed by Ken W., September 19, 2020
All the city guidelines should be observed while we live in this time of Covid-19. We have a lot of fresh air and ample room on the boat, so it's easy to keep distance as needed, but there have been no cases of Covid contracted or transmitted on any of our tours going back to Summer 2020.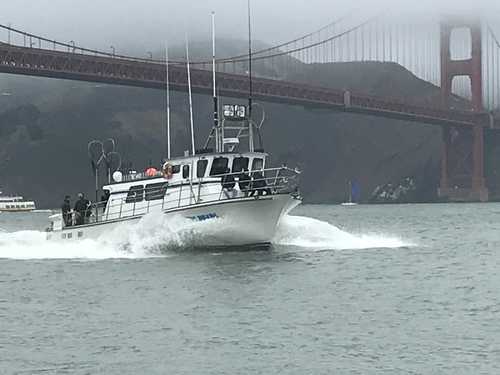 Our Tour Boat: The Pacific Pearl
Our colleagues at Fish Emeryville launched East Bay history tours with our good friend Liam O'Donohugh in 2019, and we have been delighted to offer "City Front" and "Northern Shore" Tours of San Francisco since 2020. Join us on this completely refurbished 35-foot sports fishing vessel for an awe-inspiring Bay Cruise with lots of room to walk around and the freshest air available!