La Llorona: The Eviction of Memory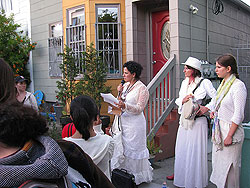 1. THE FIRST EVICTION: MEMORY
Once upon a time, long before the Mission was El Barrio and a hipster incubator, it was simply a watershed. The Ohlone placed shellmounds near major waterways and bay estuaries. There would have been shellmounds, here, near the creeks and seasonal lagoon of the Mission, but these were disturbed a long time ago.
We know from other shellmounds that they are composed of refuse: mussels, clams, cockleshells, and oyster shells, interspersed with: ash from cooking; mammal bones of rodents, rabbits, deer, elk, bear, and sea and river otters; fish bones; bird bones, mostly of duck and geese but also egrets and herons. These bones alone reward us with a memory of a world in which non-human species dominated this place.
The mounds are sometimes called "kitchen middens" or refuse piles, but these piles are more than just trash. Bay Area archealogist Evan Elliot explains, "They are richer in information than the landscape itself. Some shellmounds are deliberate monumental constructions, indicating a ceremonial gathering place for funerals or feasts, or an elevated village site that could also serve as vantage point to track fires or hunt. Other middens were landfills aimed towards surviving tidal living near a river or a marsh."
The ash layers also tell stories. Some are very thick and wider than average, indicating a feast lasting for days, perhaps weeks.
"The uses given to shellmounds were also not static," continues Elliot, "A midden for accumulation of refuse would, a century later, be an appropriate place to bury an ancestor". Companion Archeologist Jessica Tudor adds, "With such shellmounds, the Ohlone seem to be saying, 'We made this. Our ancestors are here. We are of here'."
I ask her about the connection between shellmounds and memory, and she reflects, "I often wonder whether people learnt about their past, when they buried someone in a shellmound, much in the way, I learn about them when I am analyzing a dig. … Theoretical archeologists say that landscape and memory are tied together. Our memories of life cannot be separated from where they happened. To the extent that a place is a stable environment, it is possible to have a better memory of a lifeline."
2. THE SECOND EVICTION: ABUNDANCE
The Mission was once an undulating valley cradled in a crescent of hills. Oaks and buckeye trees clutched exuberantly at its slopes, and flowering shrubs thrived on the surrounding ridges in impenetrable growths. Wherever there was passage, the wind blew over perennial bunchgrass, speckled with wildflowers and crusty with bugs. Hummingbirds hummed, eagles swooped, hares silently stared at the moon, and coyotes howled. The fog ever-rarely blanketed the protected valley below, making this the sunniest place on the peninsula.
From the late 19th to the early 20th centuries, the loping land of the Mission valley was cut down to accommodate a real estate land grab and the construction of the railroads. A mechanical tsunami of steam-paddies plowed, scraped, and carved this rolling Valley into a comparatively flattened street grid. The streets dissected land into lots "for sale", and the desire to create lots to sell created more streets, which in turn, facilitated the establishment of a grid that could be crossed by railroad tracks.
Four railway lines pushed from the Ferry building to the Mission, and the Stick-style, Italianate, Edwardian, Victorian, and Queen Anne buildings rose on land and water in a pageant of sequential fashions. The shellmounds and the sand dunes became garden compost, pavement, and landfill material. The landfilled Mission Bay became a sewage channel known as Shit Creek, flanked left and right by the industrial docks. By the early 1900s, the street grid and aesthetics of the urban Mission of today had been defined.
The crescent valley of the Mission stopped being harvested and farmed for sustenance by its inhabitants, and instead became residency for industrial workers. Work itself became the place laborers made, but didn't control or own. The fruit of their labor was now money, which was vastly spent on acquiring food commodities and to cover mortgage or rent for the right to live on the land. Manual work was no longer directly connected to securing wellbeing, and workers became concerned with securing legal rights within the system of employment. Any surviving Native-Americans who witnessed this transformation must have found it a very strange idea to do work that produces scarcity. It is still a very strange idea.
3. THE THIRD EVICTION: SOLIDARITY
By 1967, the population of the Mission was predominantly Latin American, but the neighborhood also belonged to the "Irish, Italian, Anglo, Filipino, American Indian, Samoan, and Black". Even among Latinos, there were sometimes conflicting ethnic roots in Nicaragua, Honduras, Guatemala, Mexico, and the more established Chicano culture. But that year neighbors organized to take control of redevelopment funds. The movement, known as the Mission Coalition Organization, was called the "largest urban popular mobilization in San Francisco's recent history."
The Mission was also mostly working class. Many neighbors worked together in the factories in the northern industrial zone of the Mission, or on the docks of San Francisco, often belonging to the same unions or social centers.
The seventies in the Mission also saw the rise of radical grassroots organizing such as the Black Panthers, Mission Rebels, and the mobilization around Los Siete. Informed by Third Worldism, different radicals of color "bonded not over politics of identity, but shared a politics based on solidarity and a mutual struggle for self-determination." (paraphrase from Ten Years That Shook the City: San Francisco 1968-78).
In this context, children were raised in the Mission. Walking in a procession a few months back, I met Mattie Scott -60- and Liz Torres -50-. They were both raised in the Mission, and having not been back for awhile, they reminisced. Mattie tells me, "You have to understand: I grew up in the segregated South. When I arrived in the Mission, well, it was heaven! Black, brown, white: Everyone got along…"
"Reminds me of my grandmother", says Liz, "She was Spanish, and she cared for all the children on the block. She would give me a bath in the same tub as the Black kids next door. I mean, man, I didn't even know what racism was…"
On a balmy evening in San Francisco, Mattie recalls, "On a night like tonight, there would be neighbors out on every porch and staircase; kids jumping rope, and closing down the street to play ball."
Liz laughs, "Every block had a loud mother, and a drunk!"
Mattie continues, "On Fridays, we would go to dances at O'Connell or at the Centro Social Obrero, and walk back home alone…"
"And to the movies at the New Mission Cinema," Liz says.
"We also had family days. On Saturday, everyone went to the pool at Garfield Park. You would see everyone there!" says Mattie.
"Hey Mattie, do you remember the lady who used to sit all day long at her window in the Army Projects looking down over the park?" They both laugh. "She would sit, leaning out, hailing everyone who went by, smiling and waving, and asking about family, all day long."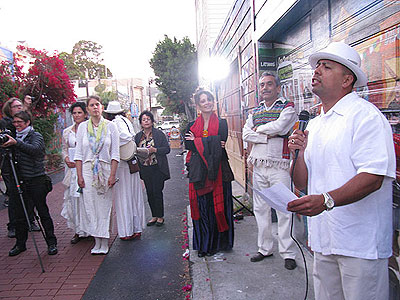 4. THE FOURTH EVICTION: SECURITY
Then came the eighties. This decade was rich with neighborhood art and music. Vibrant struggles turned San Francisco into a Sanctuary City for refugees of the Central American wars, and challenged U.S. militarism at home, too. But this decade was also disasterous: public education was decimated by funding cuts, poor and mentally ill people were thrown into the streets by the thousands, and the inner city was flooded by cheap powerful narcotics.
There was a lot of money to be made in trafficking illegal drugs, and poor neighbors (like in the 1920s Prohibition) were willing to take the risk. Ula, a Mission homegirl, now 37, tells me she started dealing drugs when she was 14 years old. "My parents gave me hell for it! But they didn't have money to pay off their mortgage. Do you think they didn't take that money?"
Even then, she didn't really understand about gangs. One day, she was riding the bus back home in the Mission, innocently wearing her red 49ers fan sweatshirt, when a Sureño spotted her, assumed her affiliation, and pulled the cables off the bus. He boarded the bus, and stabbed Ula in the neck. After that, she realized she needed to become affiliated to be protected. Yet, gang affiliation was not what it is today. "Back then, we had code: You never started anything in front of families or pregnant women. We had OGs to show us the game." She shakes her head, "These new booties out there, they don't have nothing like that. They jump in new recruits just to defend the pennies they're making off a corner. They get their identity from what they see on teevee."
Competition in the drug business escalated into contested gang territories. Gun violence increased; addicts overdosed; police brutality found new excuses; and the use of injected drugs piggybacked into the AIDS crisis of the late 80s.The worst part was the loss of elders in the community to addiction, prison, illness, and deportation. Some families in the Mission have suffered generational neglect and separation. If it weren't for afterschool programs, and the self-appointed hood mommas, uncles, and aunties some youth would have no guidance at all.
So, there are other ways to get permanently displaced from the Mission, including by being shot dead. Less than a year ago, there was an altar for 20 year old Jesus Solis on Treat Street near Garfield Park. A month later, there was an altar for 19 year old Cesar Bermudez over on Harrison Street. On Easter Weekend, 19 year old Jacobo Valdivieso was gunned down outside his home, on Bryant near 24th, during his Spring Break from college.
I met Mattie Scott and Liz Torres in a procession for Jacobo Valdivieso, 19 years old. Mattie and Liz are part of a growing group of mothers who have lost children to gun violence in the Bay Area. I asked whether growing up in the Mission of the 60's and 70's informs their activism today. Mattie responds, "Of course! I remember the Black Panthers and the Mission Rebels. They were among the most diverse groups. They taught social consciousness, and organized breakfasts, childcare, and feeding the elderly." Liz remembers hanging out at the Kaliflower Commune that still stands at 23rd and Shotwell, with the white hippie chics, who taught her arts and crafts and how to paint her toenails in rainbow colors.
People of the Mission like Mattie and Liz were raised in solidarity and security in a multi-racial, blue collar, and politically left neighborhood. They know better than to be told that violence, drugs, and death is the fate of a low income community.
Sometimes we have to look through the eyes of elders to imagine the future.
5. CAN'T TOUCH THIS: JOY
Al Downing, born of Nicaraguan parents, was raised on Bryant near 23rd, where he still lives. Like many young Latino men growing up in the Mission of the 70's, Al was regularly subjected to assaults by the police for walking young, male, and Brown around Dolores Park. One day, someone tossed him a racial epithet, saying, "Go back to where you came from!" To which Al, snapped back, "Buy me a ticket to Virginia!"
His great-great-great grandfather is Henry Hawkins Downing Sr., born in Virginia in 1780. His great-great-grandfather is the junior Henry Hawkins Downing born in 1819 in Virginia. His great grandfather is John Alexander Downing born in Missouri in 1843.
His family history is tightly woven to the very long history of San Francisco and Nicaragua. John Alexander appears to have followed the Gold Rush to the City by the Bay, and the, in 1868, he passed through Nicaragua to get back home. He ended up marrying a woman with a name evocative of the jungles (selvas) of Central America: Sabina Selva. Family legend says Alexander Downing established a casino in Managua frequented by the high society of the time like the poet Rubén Dario.
To Roosevelt by Rubén Dario
. . .
You are the United States,
future invader of our naive America
with its Indian blood, an America
that still prays to Christ and still speaks Spanish.

You are strong, proud model of your race;
you are cultured and able; you oppose Tolstoy.
You are an Alexander-Nebuchadnezzar,
breaking horses and murdering tigers.
(You are a Professor of Energy,
as current lunatics say).

You think that life is a fire,
that progress is an irruption,
that the future is wherever
your bullet strikes.
No.

. . .
O men with Saxon eyes and barbarous souls,
our America lives. And dreams. And loves.
And it is the daughter of the Sun. Be careful.
Long live Spanish America!
A thousand cubs of the Spanish lion are roaming free.
Roosevelt, you must become, by God's own will,
the deadly Rifleman and the dreadful Hunter
before you can clutch us in your iron claws.

Now, John Alexander and Sabina had many children together, and eventually grandchildren. One was given the name of Alberto Downing. This is our Al Downing's grandfather.
Grandfather Downing arrived to the Mission in 1928, and began working in a factory on Bryant Street, and living on the same street a few blocks South. In 1945, Al's father followed him, and soon began a lifetime job at the Hostess and Wonder Bread factory in the North industrial zone of the Mission, and also living on Bryant Street. He made the cupcake filling by scratch and by hand during the graveyard shift. He met his wife –another immigrant from Nicaragua- through family that were established in the Mission. Her first job was at the Levi's factory on Valencia Street, but soon after became a waitress at the Planter's Peanut diner. The couple also settled on Bryant Street, which is where Al Downing –son – still lives today.
Al also followed a blue collar tradition. After working for a time with the Job Core, he became a lifelong San Francisco postman. You can't get more Mission than Albert Downing: Third generation blue collar, north Mission industrial, Nicaraguense. In his lifetime, however, Al witnessed his neighborhood dive into insecurity. Since the 1980's, he has lost between 30 to 40 friends and acquaintances. "It's the same for many people in the Mission", he's told me. Albert is also part of the gay community that survived the AIDS epidemic of San Francisco. The amount of peer deaths some people in the Mission have survived is gargantuan.
Now, despite all of this, Al keeps his joy. Into the early 80s, he was still piling up friends in his 53' Belair Chevy to cruise the Mission from 16th Street to Silver Avenue each Friday night. He boogied through the rise of Carnaval in the Mission, and Pride Parade and Halloween in the Castro. So, you see, part of the art of growing-up tough is not letting others evict your joy.
He told me an early memory of being young and gay in San Francisco, "I went to a club downtown with a friend and her brother. We arrived early, and were seated at a table. The place seemed empty, but suddenly, the song "Car Wash" was blasted from the speakers. It was the hit single of the time." The dance floor was flooded by men under the disco lights, rubbing their bodies to the funky music. Albert states, "I felt at home."
There are a lot of new young hip people in the Mission, and most are oblivious to the difficult struggles that the Latino community has faced and bonded over in the past fifty years. Albert often feels goaded by them. "They seem to think it is cool to be poor. There is nothing hip or trendy about being poor."
"One day, I'm walking home and as I pass these hipsters at a corner, they get very quiet and look at me with fear. I tell them, 'What are you looking at?' But they just kept staring, so I confronted them, 'You're scared of me?! When it's you guys coming into the neighborhood taking over Latino homes?' And still they kept staring at me, so I leaned in and yelled, 'BOO!', and the hipsters jumped. "
Albert grins like the Cheshire Cat. He loves to scare hipsters.
But I don't want to go among mad people," Alice remarked.
"Oh, you can't help that," said the Cat: "We're all mad here. I'm mad. You're mad."
"How do you know I'm mad?" said Alice.
"You must be," said the Cat, "otherwise you wouldn't have come here."
Alice didn't think that proved it at all: however she went on. "And how do you know that you're mad?"
"To begin with," said the Cat, "a dog's not mad. You grant that?"
"I suppose so," said Alice.
"Well, then," the Cat went on, "you see a dog growls when it's angry, and wags its tail when it's pleased. Now I growl when I'm pleased, and wag my tail when I'm angry. Therefore I'm mad."

from "Alice in Wonderland" by Lewis Carroll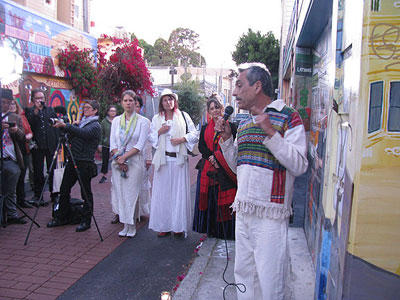 6. THE SIXTH EVICTION: CONNECTION
For decades the Mission's apartments were owned by working-class Poles, Russians, Germans, Irish, and Italians. My landlady Frances inherited her building from her Italian-American father, an ironworker at the docks; she was still a teenager when she helped him pick it out. Lucca's Deli on 22nd and Valencia and Dianda's Italian-American bakery on Mission and 24th are lingering mementos of an Italian past. Over by Shotwell and 22nd is the old Polish Club, or Dom Polski, among other remnants of a European Mission.
But the ironworks are gone now, and the docks are rotting. The work the new Latino immigrants and Latino homies find—at construction sites, on the line at restaurants, and DPW blue collar jobs—can't cover a down payment on a mortgage in the Mission. They're majority renters, not owners as their predecessors were, and so subject to owner move-ins and other means of tenant eviction. The value of properties in the Mission, Bernal Heights, Noe Valley, and Cole Valley, in proximity to BART and the corporate shuttles of Google, Apple, Facebook, eBay, LinkedIn, and other dot-com employers, have skyrocketed. Latino tenants are moving out to Daly City, Stockton, Richmond, Gilroy, and Hayward—some of these places nearly an hour away on the inefficient and inconvenient commuter rails and buses. But every morning they still come in, to build houses they can't live in, and provide services and food they can't afford.
The character of the neighborhood has shifted with the arrival of professionals of the tech industry. They have become the new – high income - working class of the Mission, and that is a terrifying thought, since most professionals seem to be under the delusion that their wage earning work entitles them above blue collar workers to basic quality of life.
The self-defeating logic of our aggregate work is the consisting pitting of the "gentried class" against the manual and service class for access to essentials, such as housing, education, food, healthcare, and respect. Silicon Valley is the industry of connection and connectivity, and even memory. Around the world the devices and services of the digital age engage our compulsive nature, provoking us to stare incessantly into screens that promise to reflect back our selective interests. I would call this the Age of Narcissism, if not for the fact that as I write these words, the residents of Istanbul are using Twitter to evade the authoritarianism of their government, and provoke an urban mobilization of hundreds of thousands to stop the eviction of trees and a park where they can meet without the compulsion to buy.
Over in the projects of South San Francisco, Ula now lives with her 16 year old son and 4 year old daughter. Her husband (father to her youngest) was shot dead in the Tenderloin in 2011. She lives broke, day by day, suffering from depression, anxiety, and isolation. She is prohibited from visiting the Mission with her children under the threat of being charged with "child endangerment" due to her past vida loca. Still she yearns for her kids to grow up knowing what it is like to live around people that care deeply about each other.
"When my son was born, his father was in jail. Soon after I got home from the hospital, there was a knock on my door. I opened and there were all these grown men, all these solid OGs. Frank Peña was among them. They said they were friends of my husband and that they had come to hold the baby. They came into my home, and took turns holding my son, because my husband couldn't be there. …"
Ula wants her children to grow up understanding the solidarity that exists among the homeboys. "I make choices all the time about when and where to take my kids to funerals and parties. I don't want them to be overexposed to the lifestyle, but I do want them to see how much love and support there exists in our community."
Ula had no doubt about one event to which she took her kids. "… I got to tell ya', in 2010 when the Giants won the World Series, the moment that last ball was in the glove, I looked at my son and said, 'Grab your jacket.' Heading to the Mission, he thought there wouldn't be anyone there. I knew better, and I needed him to be there. I wanted him to experience being on streets packed with people you know, in celebration."
"96 from Brian Wilson, and the Giants are one strike away. Here it is! Struck him out! And for the first time, since 1954, the Giants are World Champions!" —Announcer
The "outcasts and misfits" won that World Series. That night in the Mission firetrucks honked, mattresses burned, homies drank, everyone drank, and riot cops rioted! The neighborhood, the City, short-circuited on hugs among friends and strangers. As to Ula and her homie survivors of the '80s, '90s, and so far '00s, they dedicated that win to Tiny T of the Mission. Tiny T was killed in February 2010, but he was beloved by his tribe, because despite being raised in extreme negligence and abandon, he grew up to be a man of enormous heart, loyalty, and generosity. That's how real OGs do.
7. THE SEVENTH EVICTION: HOME
On a Sunday, last year, I went out to the corner of Shotwell and 24th to find an open house sign. A Chicano family of seven siblings was selling their home. None of them had the means to keep it. One of them – J- lived in his truck for awhile, before he sold it and became part of the street homeless of San Francisco. Newer Mission neighbors were happy that they left—a few of the family members who'd lived longest in the house had been accused of associating with loud drunks and gangbangers—but I was sorry to see them go. I still see J nearly every day walking around the streets.
When J was a little boy, he lived in my apartment, with his mother, siblings, and grandmother. Talking on our stoop with J, he tells me, "I once saw the devil in that little room at the top of the stairs." That space he calls a room is our storage closet.
"What did he look like?" I ask.
"Just as you expect, red face with black horns. I told mi abuela, and she did a limpia (cleansing) to drive him out."
"Thanks for getting him out." J nods.
Another day, I am waiting on the sidewalk in front of my building for my friend Kat to pick me up. J strolls by, and he is in a horrid mood because he is feeling the weight and injustice of his homelessness. As he drunkenly rants at me about the sequence of events that placed him on the street, a woman in a yellow jacket and pencil skirt, sporting an oversized black Easter bonnet parks her convertible in front of the building. She sits overhearing our conversation, then gets out and walks up one stoop of the building, peering through the doors, and then back down over to ours, gleefully inspecting the doorways. This woman is cartoonish in her self-representation as a real estate agent. She even carries a clipboard and wears stilettos.
My skin shrinks and creeps as I see the Devil trying to sneak back upstairs wearing a designer jacket and hat. I stop her, "Hi, are you a realtor?"
Beaming a sharky grin, she proudly responds, "Yes, I am. I sold the building on the corner of 25th."
I know the place. One of the women being evicted from that building is a Latina single mother, who has lived 25 years in the Mission, and she is trying to stay. The Mad Hatter carries on enthusiastically, "Looks like this place needs a lot of work!"
"You're looking to buy and sell this place?" I don't hide my disgust.
She smirks at me, suddenly realizing I am not an ally.
I tell her, "I really don't appreciate the line of work you do. This building is in the last tract of the Mission where there is some affordable rent."
"Well, things change," she replies, flashing another grin.
My blood simmers, "It changes because realtors like you go out of their way to purchase properties to cater to the high incomes of Silicon Valley professionals. Your actions then evict people like me out of the neighborhood, who can't pay the high rents you artificially create."
The professional displacer continues beaming, "Well, you can't expect to live here without paying! Besides you would make some money out of it!" "$50,000!", she announces the worth of my buy-out.
"What it would do is toss me out of my home," I retort,
At that moment, my friend Kat, who is a Silicon Valley rocket scientist, arrives in her Porsche to pick me up. I wave goodbye to J, hoping he'll cuss the devil away.
Nobody gets away clean in this land grabbing business.
The day before I co-guided "La Llorona: A Public Lament on Ellis Act Evictions in the Mission (A MAPP event)" with other poets and artists through the streets near by home, the Bonnet Bitch was whispering into the ear of the Trustee of the Building that she wanted to buy the building.
The day I left my home to start the evening of La "Llorona", I stopped to console J who was weeping, truly weeping, at having lost everything he ever cared for in life.
Two days after crying out for the lost children of the Mission, I am cutting angrily at my insides.
Click here to LIKE.